There is no mistaking that 2020 was an unprecedented year that affected industries worldwide, including the landscaping sector. The COVID-19 pandemic has impacted many businesses in our industry. It will continue to do so in the months ahead, but we at LandscapeHub are approaching 2021 with cautious optimism. The industry generates $99 billion annually, with 3.3% growth over the past five years, and employs over 1.1 million people nationwide. We are hopeful that a rebounding economy, nonresidential, and residential construction will continue to drive demand for landscaping services.
We've assembled a new marketplace trends report with data and observations collected over the past 12 months that will help you plan for a strong year and beyond. Below is a snapshot from our report that gives you a sense of where the industry stands and the anticipated areas for growth moving into 2021.
Industry Overview
Landscaping Services - Key Industry Statistics
Source: IBISWorld
$98.7bn Revenue
Annual Growth 2015 – 2020 = 3.3%
Projected Annual Growth 2020 – 2025 = 3.3%
$5.3bn Profit
Annual Growth 2015 – 2020 = -2.7%
5.4% Profit Margin
Annual Growth 2015 – 2020 = -1.9%
505K Businesses
Annual Growth 2015 – 2020 = 1.2%
Projected Annual Growth 2020 – 2025 = 2.9%
1m Employment
Annual Growth 2015 – 2020 = 3.0%
Projected Annual Growth 2020 – 2025 = 3.1%
$32.1bn Wages
Annual Growth 2015 – 2020 = 3.5%
Projected Annual Growth 2020 – 2025 = 3.5%
Key External Drivers % = 2015-2020 Annual Growth
2.8% - Per capita disposable income
1.7% - Government consumption and investment
1.5% - Value of residential construction
2.1% - Value of private nonresidential construction
3.1% - Households earning more than $100,000
Industry Structural Impacts
POSITIVE IMPACT
Concentration (lots of players in the field) – Low
Technology Change (few disruptors) – Low
Globalization (difficult to propagate plants outsize their zones) – Low
MIXED IMPACT
Life Cycle (the industry in relatively mature and well-saturated) – Mature
Revenue Volatility (weather, plant health, etc. impact revenue) – Medium
Capital Intensity (few larger players make play for capital more intense) – Medium
Regulation (government regulated, but with exceptions) – Medium
NEGATIVE IMPACT
Industry Assistance (private sector industry) – Low
Barriers to Entry (investment to start a landscaping business is relatively small) – Low
Competition (lots of small to medium-sized businesses) – High
Products & Services Segmentation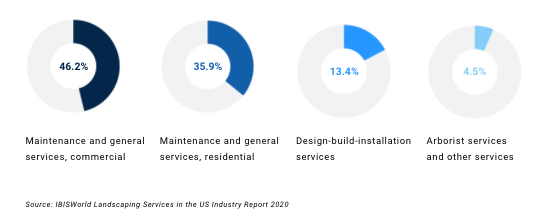 Maintenance and general services, commercial = 46.2%
Maintenance and general services, residential = 35.9%
Design-build-installation services = 13.4%
Arborist services and other services = 4.5%
Landscaping Business Locations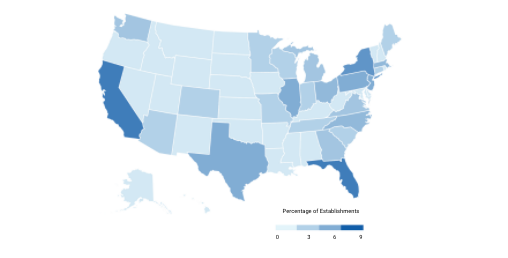 The Southeast accounts for the largest share of industry establishments (24.9%), with several sizable single-family housing markets, including many Florida areas. Most of the region is temperate, with relatively warm weather year-round. During the summer months, irrigation and lawn care demand are exceptionally high.
The Mid-Atlantic region is the second-most concentrated region with 18.2% of all establishments in 2020. IBISWorld estimates that this higher share of industry locations is due to the region's above-average median household income, enabling more consumers to afford professional upkeep services for their lawns and landscaping.
While the region's climate is relatively temperate, winter months typically bring snowstorms, making snow and ice management a significant industry service for the area. Within the region, New York and Pennsylvania account for 6.9% and 4.6% in 2020, respectively, of industry establishments, in line with their share of the US population.
The New England region also accounts for a higher share of industry establishments (8.5%) than its percentage of the US population (4.6%) due to significantly higher median incomes in New Hampshire and Connecticut.
The Great Lakes accounts for 15.3% of all establishments, while the West accounts for 13.7% in 2020. The disproportionately low number of establishments in the West is likely due to the year-round dry, warm weather typical to the region, discouraging homeowners from installing large lawns.
Interested in learning more? Check out our marketplace report!