While we see lots of opportunity for growth in the year ahead, it's essential to be aware of our industry's unique challenges. Some are new, while others are ongoing issues that we must continue to plan around. Please take a look below for the four we think are more important to keep track of this year, and be sure to check out our marketplace report for the full industry outlook.
Quality Labor Shortages
The shortage of quality labor available was rated as the number one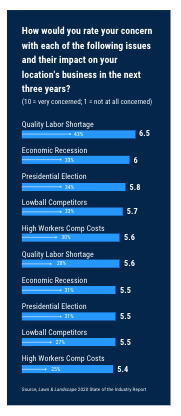 concern that will have an impact on business in the next three years, according to the Lawn & Landscape 2020 State of the Industry report. The ability to find and retain talent has become an ongoing struggle across the country, with a decrease of available talent and much of that workforce being transient.
Currently, the H-2B program, a certification issued by the US Department of Labor, enables operators to hire noncitizens to work in busier seasons, such as summer. However, the 2018 cap for H-2B visas was met in March; in an interview with the Wall Street Journal in March 2018, BrightView stated that the company was only awarded 500 visas out of the 3,500 requested in 2018, compared with 1,600 permits granted in 2017.
While immigration policies always have the potential to change, lawn and landscape businesses will need to continue to address ways to solve the labor shortage for the industry to grow.
High Competition, Low Barrier to Entry
Many small and medium-sized companies compete within narrow geographic markets, and very low entry barriers enable new operators to enter the industry quickly. Major players can compete on a national scale but typically cannot capture a substantial market share. Within the industry, operators compete primarily on price, reputation, and quality of work since their services are mostly uniform.
Being part of a network like LandscapeHub is one way to give yourself an edge when competing with other players in your market. For instance, as a landscaper, you'll save time spent sourcing and quoting material for jobs.
As a supplier, one piece to call out is that marketing expenses in the industry vary widely. Many smaller companies typically have little or no marketing budgets, while the largest operators advertise heavily to build brand recognition. Marketing your brand via a network of thousands of buyers gives you an opportunity that others may be missing.
DIY Concierge Marketplaces Platforms
More recently, the landscaping services industry has had to contend with online and mobile application-based DIY platforms. For example, TaskRabbit is an online marketplace that connects freelancers to individuals requesting landscaping, moving, and other tasks. As the percentage of services conducted online continues to rise, these DIY platforms could negatively affect industry revenue.
Weather
Finally, seasonality and weather patterns cause industry demand to fluctuate over a year. While this is not a new challenge facing our industry, it continues to create risk and introduces creative solutions. In some markets, we see increased popularity in using native plants that are drought-resistant and more tolerant of the weather patterns native to each area of the country.