When preparing estimates for clients, you want the most accurate, up-to-date costs for materials, whether you're sourcing plants or purchasing pavers, and you want them fast. The first proposal in a client's hand shows responsiveness and resourcefulness—attributes that define your company, but you don't want to sacrifice profitability for speed. That's why LandscapeHub integrated with DynaSCAPE, to make estimating easier.
What Are the Benefits of the DynaSCAPE Integration?
As the online marketplace for the landscape industry, LandscapeHub offers real-time costs for whatever your job requires. From conifers, perennials, and fruit trees to mulch, edging, and stone, you'll find suppliers offering all the elements you need—in one place— to create a profitable landscape job. You may already use DynaSCAPE to manage your green business. (If not, take a look, because it's a fantastic, comprehensive management program that supports you with budgeting, task management, billing, customer management, crew oversight, and even efficient routing for servicing clients.) As you build estimates in DynaSCAPE, you want the most accurate pricing available for your materials, whether they are plants or hardscape materials. The integration between our companies allows you to send job and estimate details directly from DynaSCAPE Manage360 to LandscapeHub. You list the items needed for your job, and we fill in the costs. We generate a quote for the materials, saving you time and ensuring accuracy when estimating, streamlining the product procurement process.
Why We Chose to Integrate
Both LandscapeHub and DynaSCAPE exist to make your job as a landscape professional easier. By creating an integration between our platforms, we give you higher accuracy when creating proposals and save you time when ordering, letting you focus on managing your business and creating landscapes for your clients—and a profitable return for you. Our goal is to help landscape buyers use technology to reduce the amount of time they spend building estimates and managing jobs. While often green professionals bemoan complicated technology, well-executed programs make a positive impact on landscape, hardscape, nursery, and green businesses, making procurement and management more efficient. We're confident the partnership between LandscapeHub and DynaSCAPE will make your estimates and procurement much easier.
How Does It Work?
As a DynaSCAPE customer, you can enable access to LandscapeHub through your configuration settings in DynaSCAPE Manage360. (You'll see the option under "My Company Settings".)
Select "Configuration" to allow sending estimates and jobs to LandscapeHub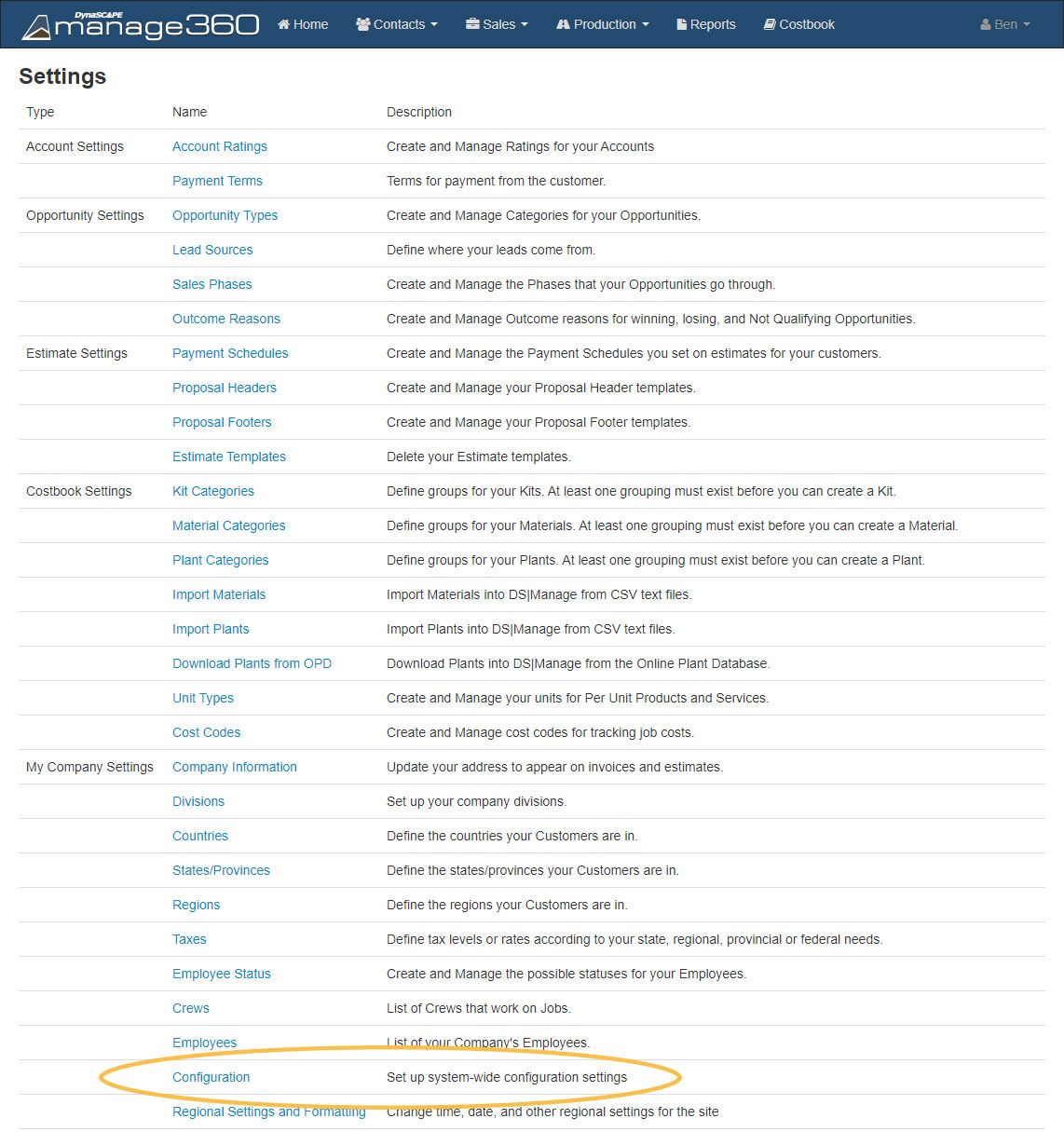 Select "Yes" under "LandscapeHub" in "Configurations"

As you prepare estimates in DynaSCAPE Manage360, both the jobs and individual estimate pages give you the option to sync with LandscapeHub. The option to "Send to LandscapeHub" is listed under "Actions". (Note: make sure your email addresses for both LandscapeHub and DynaSCAPE match.)
Send an estimate to LandscapeHub from the "Actions" menu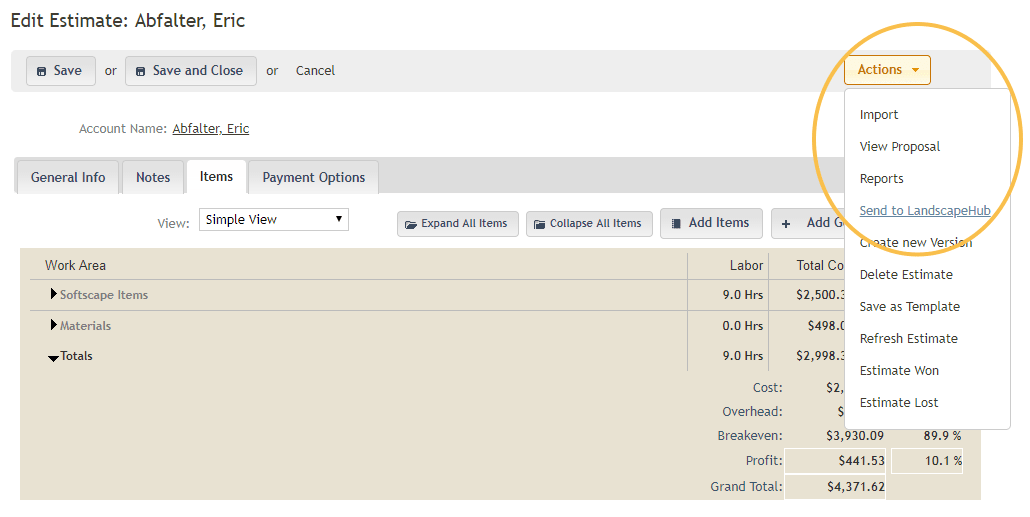 Send an job to LandscapeHub from the "Actions" menu

By syncing the estimate and procurement processes between the two companies, you'll save time, reduce the chance of manual errors, and receive the most up-to-date product information and pricing. You can be confident of the accuracy of your proposals and purchasing decisions.
Want to learn more? We'd love to chat with you about how to make your estimate and buying processes easier with LandscapeHub and DynaSCAPE. For more information about how LandscapeHub works, visit our Help Center or contact us. If you'd like information about DynaSCAPE Manage360, and specifically how to import and update material and plant lists, visit their how-to page.