With Fall right around the corner, we want to showcase some of our favorites that will add vibrant fall color to your projects. These plants won't disappoint when the weather starts to turn cooler - add the Hub's Fall favorites to your order today!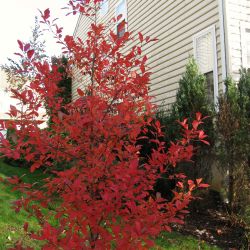 This native variety has fiery red foliage that emerges in the fall. Its pyramidal shape and low maintenance care make it an easy choice for landscapes.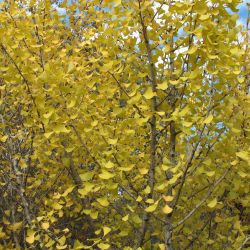 Ginkgo biloba 'Autumn Gold'
This statuesque shade tree is considered one of the best Ginkgo cultivars currently available. This male variety produces excellent yellow fall color which may persist for weeks. When leaves fall, they do so within a few short days, creating a dramatic golden carpet.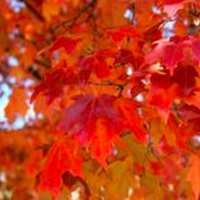 This symmetrical, full-size tree flourishes with thick, glossy green leaves during the spring and summer and then shines in the fall when its leaves turn a vibrant mix of red, orange, and yellow.
Image Source: Missouri Botanical Garden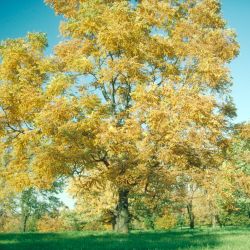 Both a shade and ornamental tree, the Kentucky Coffee tree is drought tolerant and great for large spaces. In the fall the leaves turn beautiful shades of yellow that complement its maturing pods.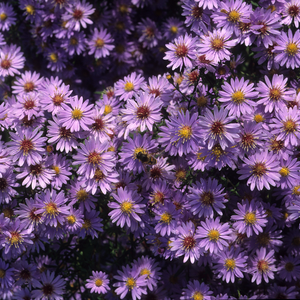 This late-season native cultivar forms a bushy mound 2 feet in height and 3 feet in width. Sturdy stems support medium green leaves through summer, giving rise to an abundance of dark purple daisy-like flowers 1.5 inches in diameter from August into October.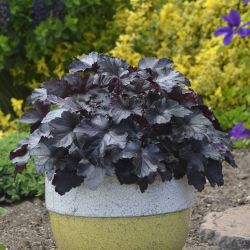 This beauty thrives in both sun and shade. Topped with white flowers and paired with its jet black scalloped leaves, it's a no-brainer why this Proven Winners® perennial is one of our top picks for fall!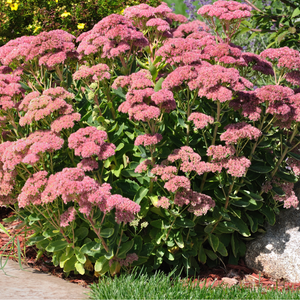 This classic late-flowering perennial Sedum has fleshy, toothed, succulent-like leaves. Its flowers faded rose-red and eventually copper-brown in fall. Stems and spent flowers often persist into winter.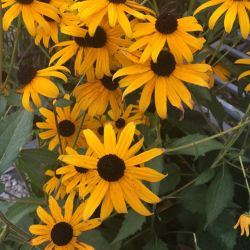 Goldsturm Sullivantii Black-Eyed Susan
This clump-forming perennial grows 2 feet in height and matures to 2 feet in width. The 3 to 4-inch yellow daisy flowers typically emerge in late May or Early June, continuously blooming until fall.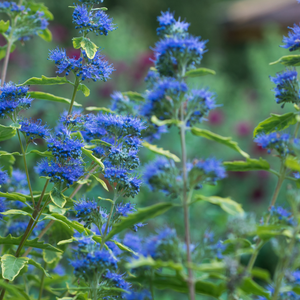 This compact, deciduous shrub has dark purple flowers that bloom from late summer through fall. The vibrant flowers combined with the dark green leaves make for a striking look in the cooler months.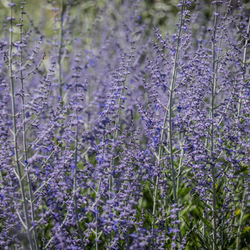 Russian Sage
This lavender-purple perennial will bloom well into the fall. Russian Sage is a hummingbird's favorite in late fall as they fuel up for their journey south.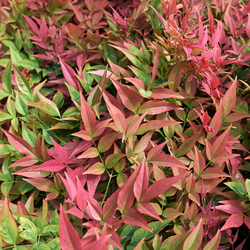 Nandina domestica 'Fire Power'
This vibrant shrub has brilliant red foliage as the weather turns cooler and last through the winter. Its low evergreen mound makes for great borders and containers.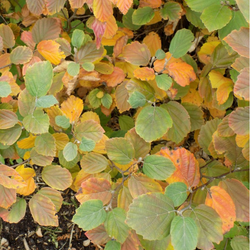 Fothergilla gardenii 'Mount Airy'
This compact shrub will bring lasting color to any landscape with its red, yellow, or purple foliage.
Image Source: Missouri Botanical Garden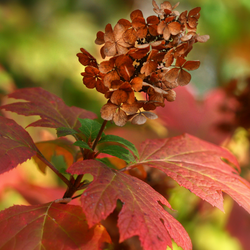 Add an impressive pop of vibrant crimson color to your landscape with Alice Oakleaf Hydrangea.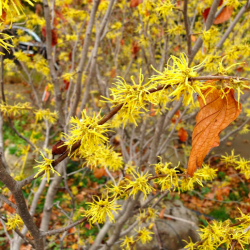 The coarsely dentate obovate leaves emerge in spring becoming a neat medium green by summer turning pleasant shades of yellow in fall. In fall, sometimes before leaf drop, yellow fragrant strap-like petals emerge in sets of 4 from tan buds between the months of October and December.