This month we've rolled out some great new features on the Hub. Read on to learn more about communication between buyers and suppliers, new ways to request and manage discounts, and an inside scoop on our new integration with Land F/X!
NEW FOR BUYERS
Purchase plants with confidence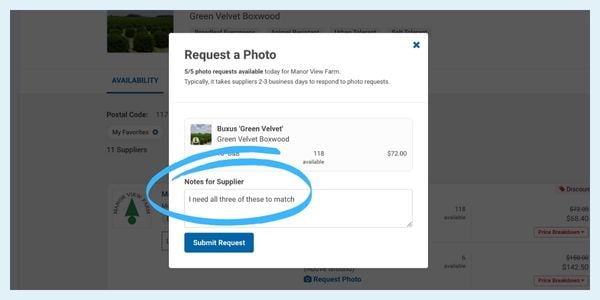 Have you found items listed on the Hub that you're interested in, but need more details or photos to purchase? With photo requests, you can communicate directly with the suppliers to view up-to-date photos of their inventory to help you feel confident with your potential purchase. Try it out the next time you're shopping on LandscapeHub.

Request your offline vendor discount apply to your online orders today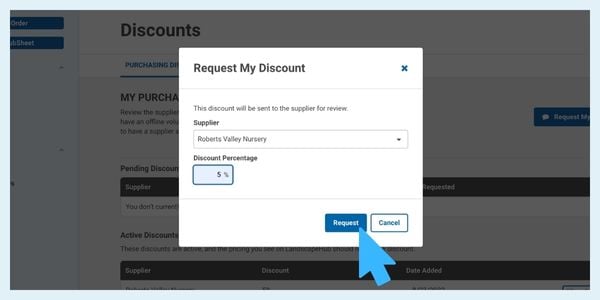 Many buyers have offline discounts from suppliers that are based on a customer's previous year's spend. If you have an offline discount, you can now request the supplier add the discount to LandscapeHub. Search real-time inventory and build accurate quotes from your favorite suppliers with your special pricing.

Select "request discount" from the new discount page on the homepage sidebar, and the supplier will review and respond to the request.


---

NEW FOR SUPPLIERS
Communicate directly with buyers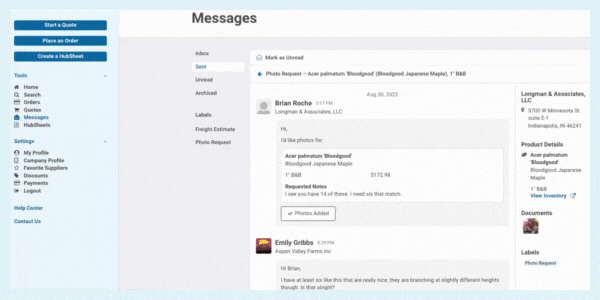 Photo requests are live on the Hub. Potential buyers can request photos of items they are looking to purchase. You'll receive these requests in your LandscapeHub Messages Inbox where you can respond with a photo or a direct message.
This is a great opportunity to speak directly with current and new buyers. Don't have the item or want to recommend another item instead? You can let the buyer know within the same message thread. Easily search your message inbox to see all your past conversations with a customer at a glance.

Our team is working hard to add more tools to make managing your messages and engaging with buyers easier. Share feedback or ideas with us if there's something you'd like to see.

Show off your impressive inventory to new & existing customers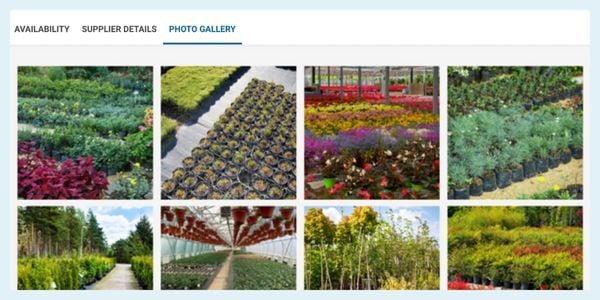 Easily add any photos from photo requests directly to your supplier gallery. Want to add more inventory and facility imagery to your gallery? Reach out to us and we can help!

Manage your customer discounts all in one place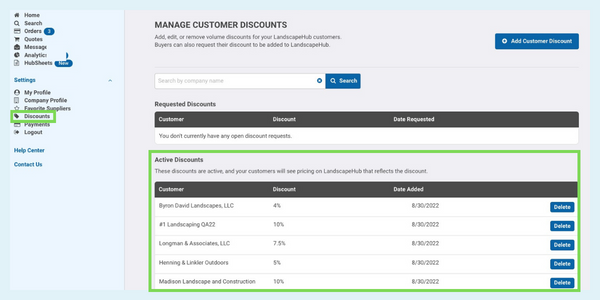 We made a new page under Settings in the sidebar called "Discounts". On this page, you'll be able to view, add, or delete customer discounts to ensure they are accurate and match your own record.
If you have questions about how discounts work on the Hub, reach out to our team for help.
---

HUB TIP
Make searching for landscape material even easier with filtering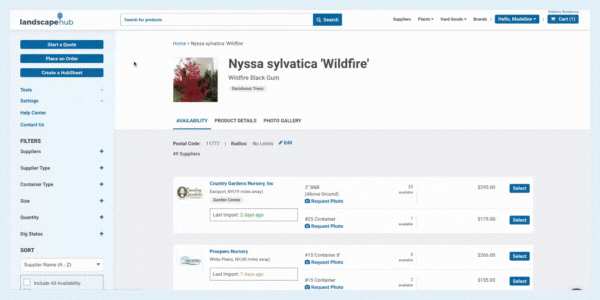 You can easily customize and narrow down your search by supplier, size, quantity, etc.

Locate the filters on the sidebar from any plant or supplier page. Apply filters to your search when building your next quote.
---

PARTNERSHIPS & INTEGRATIONS



We've recently integrated with Land F/X! Land F/X is a landscape design add-on for AutoCAD to simplify:

- Finding species
- Placing symbols
- Labeling plants
- Schedules
- Error checking
- Scale in CAD
- Color rendering
Check out the webinar we just did with them where we go over some of its cost estimating and species availability features and show you how to use these tools to inform your plant species choices and design decisions.
---

WHAT'S NEXT?

- Send attachments (.jpg, .png, .xls, .csv, .pdf) in your messages
- View and edit what's in your cart easily while you browse
Build carts at record speed with improved product pages